How to dress like you're in Euphoria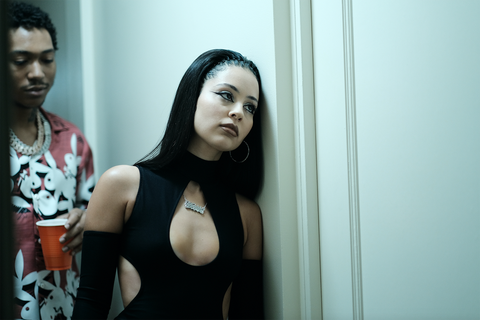 If, like us, you're obsessed with Euphoria's fashion, you've landed in the right place.
One of the best high school shows to come out in years IOHO, of course, we tune in for the darkness and the drama (there's plenty to go round) but it's the style we're truly keeping tabs on.
The woman behind the looks is costume designer Heidi Biven, whose previous work includes Eternal Sunshine of the Spotless Mind and Spring Breakers which makes total sense, right?
Defining the 'cool girl' aesthetic with a heavy-handed dose of nostalgia, the former stylist clearly draws inspiration from a wide range of references when devising the show's iconic get-ups.
You have Rue Bennett (Zendaya), who barely strays from skater grunge; Maddy Perez (Alexa Demie), who's the queen of Y2K fashion; Lexi Howard (Maude Apatow) who defines the 'twee' aesthetic and Jules Vaughn (Hunter Schafer), who's pastel vibe is a little Anime, a little '90s punk.
Now, of course, we're aware there's been some satirising of East Highland students recently (thank you, TikTok) but laugh as you might (we did), we all know you'd love to serve a Euphoria-worthy look and, despite much of the cast dressed in the likes of vintage Jean Paul Gaultier, Marc Jacobs and head-to-toe Miu Miu, we're here to let you know you don't have to take out an extra loan to do so.
Below, we've collated the best Euphoria-inspired outfits on the interweb and there are some serious looks to be had…
Y2K
Honestly, we're not convinced actual teenagers in the early Noughties did Y2K fashion better than Maddy Perez.
Lashings of cut-outs (skin is in, people…), smatterings of velvet, mandatory cowl necks, double denim and faux fur collars are thrown in for good measure – she's the ultimate It-girl.
Her most iconic looks include that Thierry Mugler cut-out dress, the I AM GIA purple bra and cut-out trouser co-ord she wore to carnival; the jaw-dropping sheerer-than-sheer chainmail look she slipped on for the Winter Dance and the fab daisy-print lilac mini she wore back in season 1.
Cut-outs
It's no secret that when Cassie (Sydney Sweeney) wore that pink cut-out swimsuit to host Maddy's birthday party, everyone with internet access Googled where to find it. In fact, so popular was the 'Gemma One Piece' by Frankies Bikini that it spawned a 500-deep wait list (and counting).
Not the first to wear daring swimwear though, Maddy has had her fair share (obviously). There's been the multiple cut-out one pieces she's donned whilst "babysitting" and let's not forget the bikini she wore to her own party too.
Skater
If anyone makes us want to re-purchase a school-era backpack, it's Rue Bennett. Her genderless style is a mix of '90s skater, lo-fi grunge and American vintage workwear.
Of course, she has her signature pieces like her dad's burgundy zip-up hoodie and the pair of Converse she never takes off but she's not afraid to surprise with the likes of a striped cropped strappy top, geometric open short sleeved shirt or oversized tailored suit.
Vamp
Kat (Barbie Ferriera) has a major style evolution throughout Euphoria. A once body-conscious teen, when she undergoes her sexual awakening, her wardrobe does too.
Defiant and fierce, her aesthetic is defined by a powerful vamp-y edge. We're talking corsets, zips, pleather, PVC, graphic tees and no end of chokers.
Anime Punk
Anime, e-girl, '90s pop punk – there are many fashion movements that Jules' otherworldly looks incapsulate. A penchant for layering, mesh, holograms and bubblegum palettes – it's the ultimate sartorial escapism.
Cute-sy
Cassie's season 2 wardrobe is all about the cool meets cute-as-pie look. Think: baby blue, baby pink and 1950s patterns, which dominate her style as she grapples for Nate's attention. Need more detail? Floral prints, glitter hair clips, gingham (we totally did not hate the Oklahoma look FYI), soft knits and light wash denim.
Twee
Lexi's fashion may not be the most talked about of the show but she holds her own when it comes to having a strong personal style. A little Upper East Side, a little Cottagecore, a lot Twee – she covers all the preppy bases and we're not at all mad about it.
This content is created and maintained by a third party, and imported onto this page to help users provide their email addresses. You may be able to find more information about this and similar content at piano.io