13 spring summer 2022 fashion trends to know: Summer fashion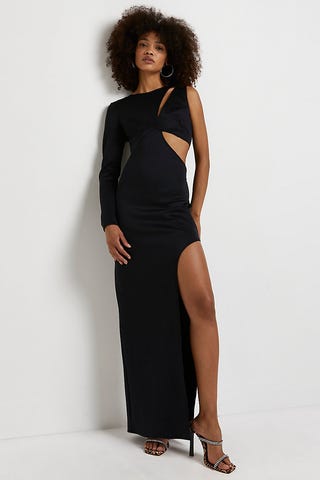 With the days now getting longer and undeniably warmer, we're finally able to turn our attention to the spring summer 2022 fashion trends – praise be! Now, while you might still be wearing a jumper (or light cardigan) as you're reading this, rest assured, balmy eves are just around the corner.
So with that in mind, it's time to clue up on all the biggest styles, colours, prints and It-pieces that are set to dominate the season ahead. Not only will checking out the biggest trends now make you look super 'in the know' when shopping with your mates, but you'll also be aware of what to look for on the high street, meaning you can snatch up the high street cult-pieces before they inevitably sell out.
Below, I've scoured the runways of New York, London, Paris and Milan to bring you a curated edit of the only trends you need to know this season. Something to remember is that there's always a handful of smaller micro trends you might wanna experiment with halfway through the season but, to start, we're going to focus exclusively on the biggest trends for 2022. From the colours and fabrics you'll want in your wardrobe to the cool details you'll start seeing everywhere – here are my top picks, starting with the most major ones:
Cutouts
Lime green
Mini skirts
Hot pink
Halternecks
Low rise
Statement trouser suits
Bras as tops
Butter yellow
Fringe
Bright co-ords
Feathers
Pleats
1. Cutouts
Another day, another cutout piece – or at least that's how it feels right now. Celebrities are LOVING the negative space trend at the moment. Of course, cutouts started their runway return back in spring/summer 2021 but, this year, they're back and even bolder. From adding a fun edge to longer, elegant dresses (Proenza Schouler, Giambattista Valli, David Koma and Christian Siriano), to turning up the fierceness on minis and one-pieces (Christian Siriano, Stella McCartney and Saint Laurent), cutouts come in all sizes and shapes, meaning there's a style for everyone interested in trying the trend. Make sure you check out our editor's picks of the best cutout dresses to shop this season.
Celebrities wearing the trend: Kim Kardashian, Dua Lipa, Kourtney Kardashian, Megan Fox, Blake Lively, Julia Fox, Rihanna, Kendall Jenner, Jennifer Lopez, Cardi B, Millie Bobby Brown, Selena Gomez, Bella Hadid, Zoë Kravitz, Megan Thee Stallion, Vanessa Hudgens and Anne Hathaway.
Shop the trend:
2. Lime green
The Grinch would have an absolute field day if he was front row at fashion month this season. Why? Because lime green was literally everywhere. Rather than being reserved solely for Y2K-esque tributes (see: Versace), the acid hue has made its way into fancy party dresses (Valentino, Erdem, Christian Siriano) and elevated summer-y looks (Stella McCartney, Valentino, Prabal Gurung).
Celebrities wearing the trend: Rihanna, Dua Lipa, Emily Ratajkowski, Kim Kardashian, Megan Thee Stallion and Paris Hilton.
Shop the trend:
3. Mini skirts
It's been a while since we've seen mini skirts (the micro-mini kind) on the runway but, we have to admit, we're kinda here for it. Of course, Miu Miu's utility-style has gone viral for its nostalgia factor, but minis are also trending as part of high-waisted skirt suits (Prabal Gurung, Michael Kors), athleisure-inspired looks (Dior) and out out 'fits (Prada, Saint Laurent, Brandon Maxwell).
Celebrities wearing the trend: Hailey Bieber, Rihanna, Jennifer Lopez, Amanda Seyfried, Dua Lipa, Megan Thee Stallion, Doja Cat and Jennifer Lawrence.
Shop the trend:
4. Hot pink
Yup, highlighter hues are back in 2022, adding a refreshing zing to your summer wardrobe. If lime green wasn't your gateway neon hue, how about hot pink? Head-to-toe Barbie-toned power-dressing is very much in this season. Look no further for snazzy coords (Dior, Versace) and beach holiday wardrobe ideas (David Koma, Prabal Gurung), or, all-out extra ensembles (Bora Aksu, Versace, Giambattista Valli and Proenza Schouler).
Celebrities wearing the trend: Zendaya, Kim Kardashian, Kate Middleton and Paris Hilton.
Shop the trend:
5. Halternecks
Criss-cross and ornate loop details are all over the runway this spring/summer. Yep, nothing says 'beach vacay' quiiiite like a halterneck top (Rejina Pyo, Christian Siriano, Chanel), dress (Michael Kors, Valentino, Dior, Tory Burch) or even catsuit (Saint Laurent) – lol-worthy tan lines be damned.
Celebrities wearing the trend: Emma Watson, Jennifer Lopez and Dua Lipa.
Shop the trend:
6. Low-rise

The noughties just called and it said that low-rise bottoms are back. Now, it goes without saying that under-the-belly-button waistlines aren't to everyone's taste (present company included), with many of us swearing never to go back. If you're feeling a little adventurous, this detail will give a clear nod to the runway set. Go for matching midriff sets (à la Isabel Marant, Versace and Brandon Maxwell), or mix and match your look for a less 'put together' vibe (Tom Ford).
Celebrities wearing the trend: Rihanna and Julia Fox.
Shop the trend:
7. Statement trouser suits
What's better than a trouser suit? A trouser suit in a statement colour, duh. Yep, the oversized '80s workwear staple is looking punchier than ever this spring/summer, with padded shoulders (Stella McCartney, Michael Kors), wider trouser legs and eye-catching colour palettes (Christian Siriano) doing the heavy lifting in your office wardrobe.
Celebrities wearing the trend: Lily Collins, Zendaya, Megan Fox and Blake Lively.
Shop the trend:
8. Bras as tops

The lingerie as outerwear trend has entered its next phase. The question is, are you ready for it? Ditching a shirt entirely is a look for the more fearless fashionistas among us, taking the crop top piece to a whole other level. Wear it with high-waisted skirts (Michael Kors) or, alternatively, go for triangular-shaped bras that you can layer underneath longer coats and jackets (Fendi, Tom Ford, Coach).
Celebrities wearing the trend: Kim Kardashian, Megan Fox and Julia Fox.
Shop the trend:
9. Butter yellow
If you prefer pastel tones to bright, saturated hues, you'll be glad to know that spring/summer 2022 also has a softer on-trend colour to add to your wardrobe: warm, buttery yellow. Whether it's billowing maxis (Chloé, Proenza Schouler), co-ordinated crop tops (Max Mara) or sleek lightweight overcoats (Jil Sander), smoother shades are here to stay.
Celebrities wearing the trend: Hailey Bieber, Kourtney Kardashian and Jessica Alba.
Shop the trend:
10. Fringe
Make the most of flippy skirts and dresses this season with full-on fridge goodness. Go for super shimmery, slinky strands for evening events (Rodarte, Fendi) or, slightly thicker fringe in neutral colourways for daytime wears (Chloé, Proenza Schouler).
Shop the trend:
11. Bright co-ords

It's time to get into the matchy-matchy vibe – suitable for everything from a night out to a weekend away in Spain. If you're lucky enough to be enjoying the latter, I'm pretty darn jealous, but also, the runways are leaning into loose collared shirts (worn buttoned up, or open to reveal a bikini top underneath), with twinning short shorts. For the city-slicker take, got for longer hemlines and figure-hugging silhouettes in trippy, psychedelic prints.
Celebrities wearing the trend: Blake Lively and Megan Fox.
Shop the trend:
12. Feathers

Strawberry milk feathers have popped up at various shows this season (David Koma, Giambattista Valli, Prabal Gurung), bringing a little bit of party and pizzazz to the runway. If you're more of a little black dress fan, you'll be black to know that the odd black version also cameo'd (Max Mara). Big bird yellow numbers were nowhere in sight.
Celebrities wearing the trend: Holly Willoughby.
Shop the trend:
13. Pleats
Last but definitely not least is pleats. This season it's all about pressed, shimmery fabrics adding a little Studio 54 glam to your look. Metallic midis and maxis are having a real 'moment' and we love how impactful this trend is – simply slip on a pleated skirt and your whole outfit is instantly transformed.
Shop the trend:
Follow Natasha on Instagram.
This content is created and maintained by a third party, and imported onto this page to help users provide their email addresses. You may be able to find more information about this and similar content at piano.io