Travel Norway: Bergen – dress cori lynn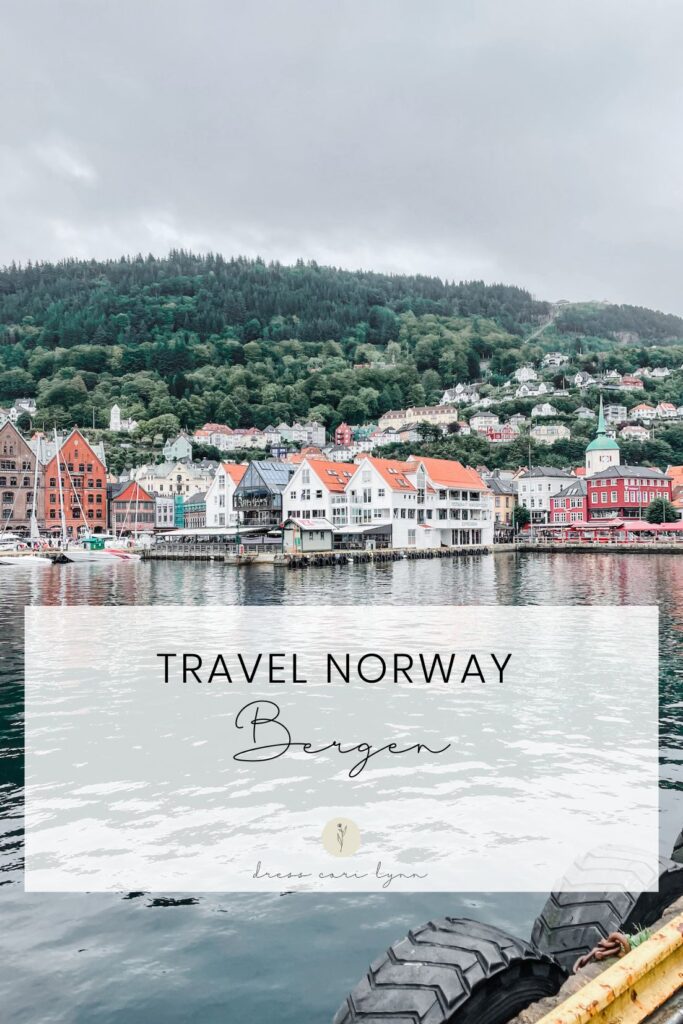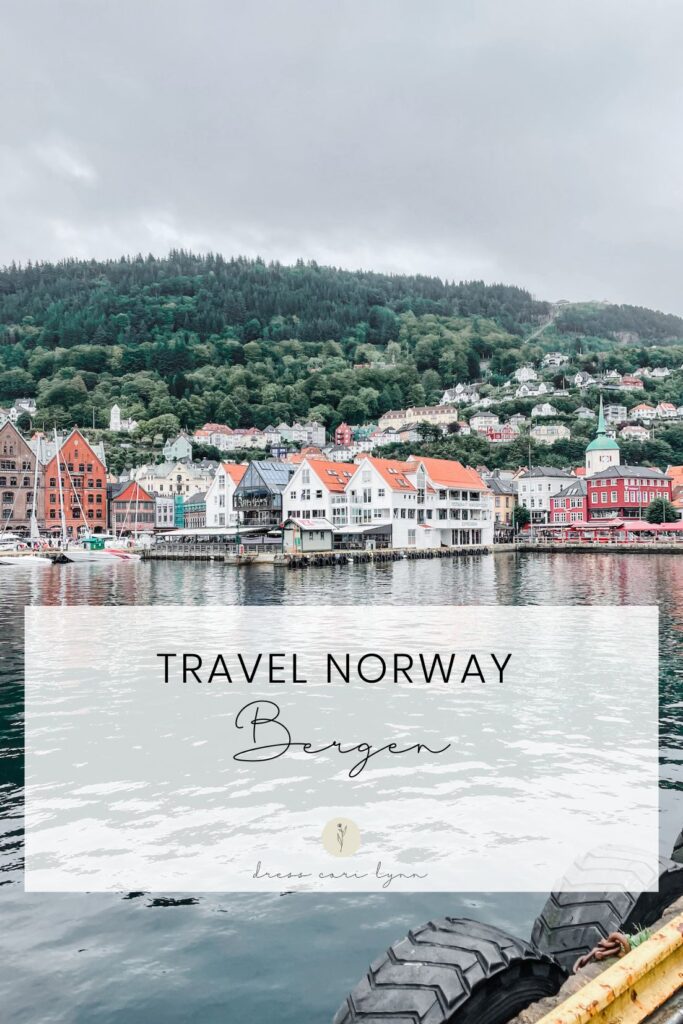 The last leg of our trip was spent in the colorful Norweigan coastal city of Bergen. We spent 4 days in the city, and loved every single one. Bergen is one of the prettiest, quaintest, cleanest and most walkable cities we've ever visited. And with the combination of mountains, water and a colorful city all meeting, it's so unique! If you haven't been, I highly recommend making a trip. Here's everything we did in Bergen, Norway!
Day One.
On day one, we arrived at Bergen station and walked to our airbnb in the neighborhood at the foot of mount Fløyen. This neighborhood was so perfect and quaint, centrally located and about a 15 minute walk from the train station, even with all the hills. And let me tell you Bergen is not messing around with the hills.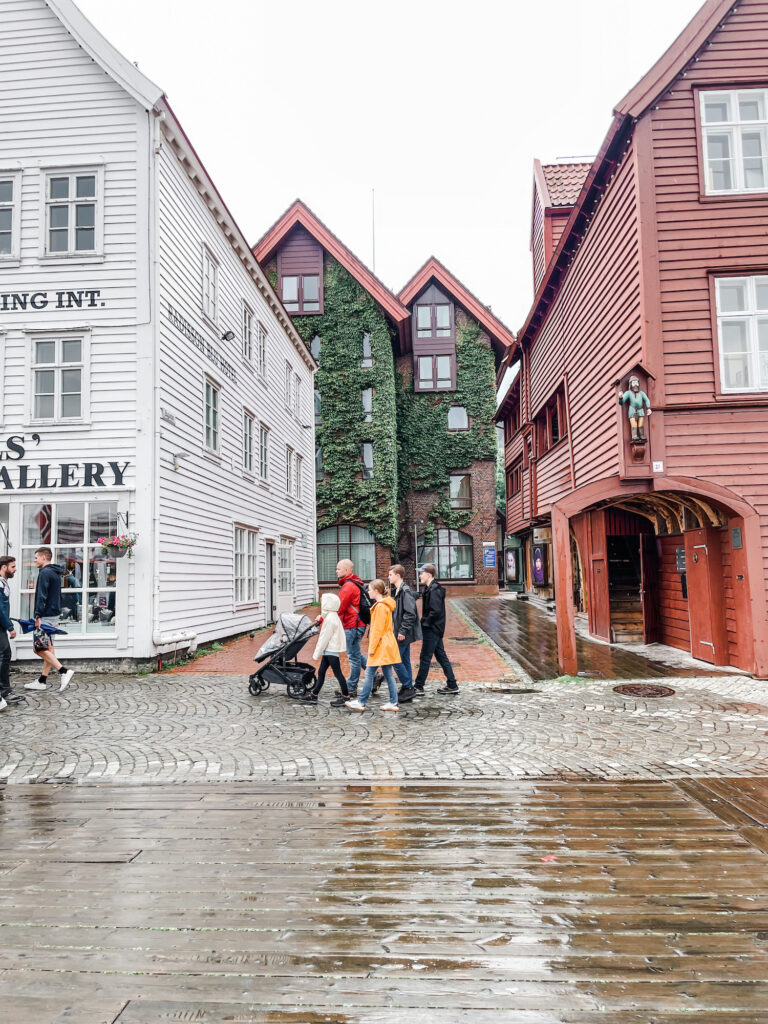 The first day we headed down to the most famous part of Bergen, Bryggen to explore and get to know the city. It was very rainy. Side note: if you come to Bergen, pack your rain gear. This is the rainiest city in Europe.
Ironically, the rain didn't slow us down at all. I don't know how to describe it, but it feels so natural for it to be rainy in Bergen, and because the city is so charming and colorful, even under dark cover of clouds it still felt like a cheery place to be.
That first evening we explored Bryggen, there are lots of shops and restaurants right there on the waterfront, and it's so fun to just walk and see everything.
We went through the Bergen fish market on our first night and had reindeer hotdogs and fish soup for dinner. The hotdogs and soup were delicious! Norwegians love hot dogs and they have a lot of different meat options for them. The Bergen fish market has covered seating under the tents, and it was so fun to be outside in the rain, tucked under a canopy eating hotdogs and watching people pass by. We also stopped by the waffle stand at the end of the market and got waffles, ice cream, and/or cocoa for dessert. Fun fact: Norwegians eat waffles for dessert, not for meals!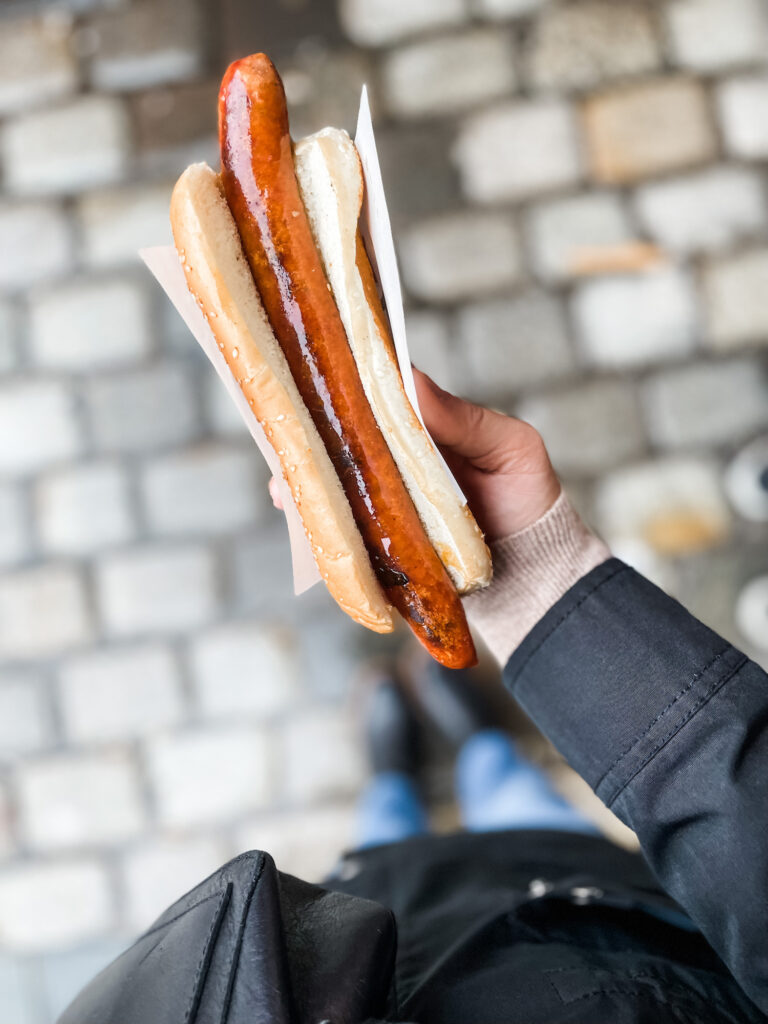 On our way back to the airbnb that evening we popped into the COOP market and grabbed things for breakfast the next morning.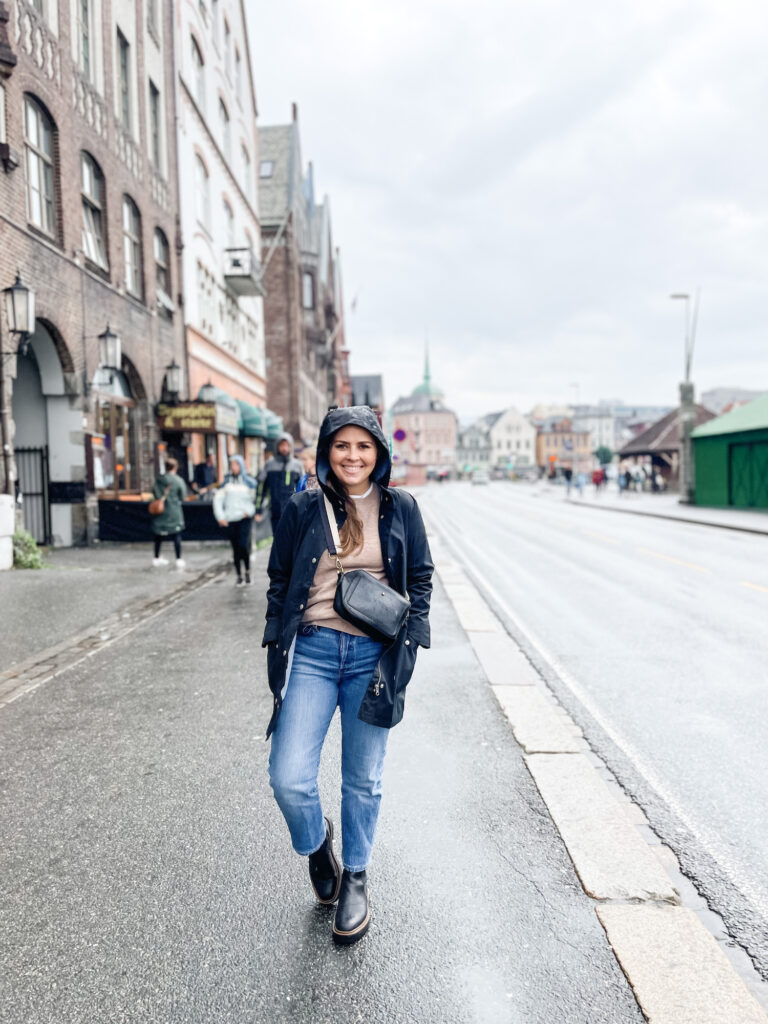 Day Two.
Day two was a hiking day, and we got AWESOME weather for it. Here's the cool thing about Bergen, it is tucked right up next to a bunch of mountains, so you can literally be standing in the middle of the city and 5 minutes later hiking up the trail up mount Fløyen, or even better, riding the Funicular Fløibanen right up the mountain. Which is what we did… twice. It's so fun.
Riding the funicular up Mount Fløyen is very affordable even for a family of 7, and you board it literally right from the center of the city. It's so cool. It drops you right up on top of Mount Fløyen where there are tons and tons of things to do.
The first thing you want to do when you get to the top is just check out the view of Bergen, it's spectacular. There are so many things to do on top of Mount Fløyan, there's a classic playground, a nature playground, and troll forest for kids to play and explore, dozens of hikes with difficulty levels ranging from easy to hard. Many are even stroller friendly. You can mountain bike, swim in Lake Skomakerdiket, fish or even camp. If you get hungry on top, there's a cafe, restaurant, and hotdog and ice cream stands.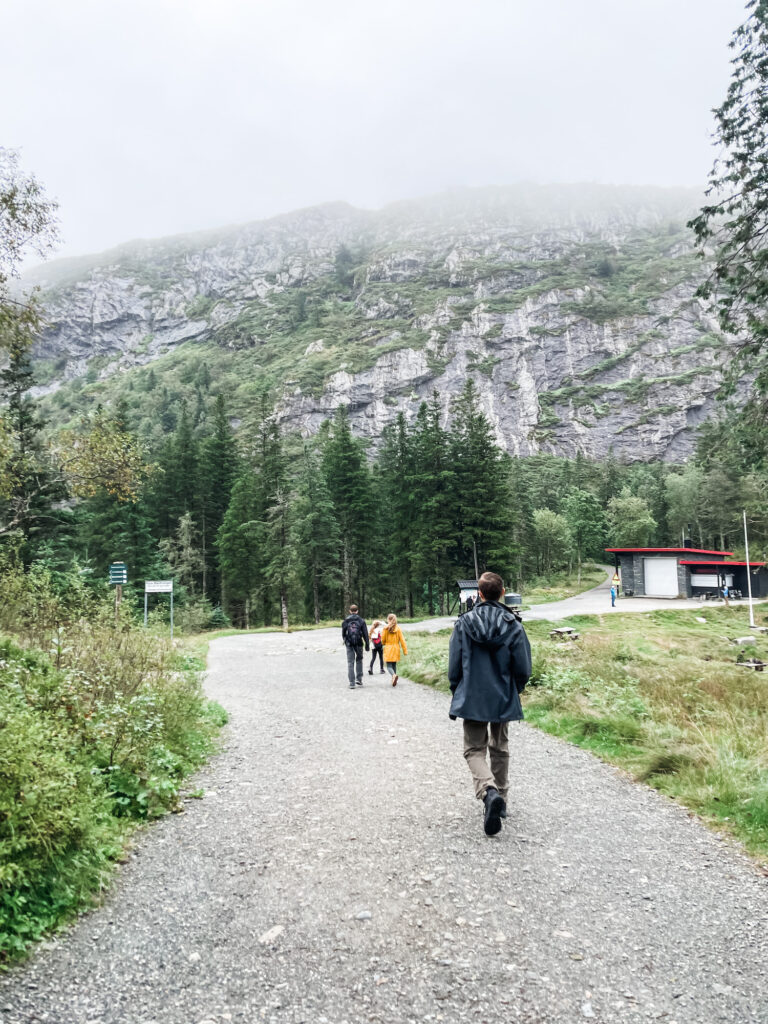 On our first day we did hiked to the top of Mount Blåmanen. It's a mid-level difficulty hike with amazing views of the surrounding mountains and of course Bergen. The hike takes about 45 minutes to an hour to reach the top, and has great views the whole time.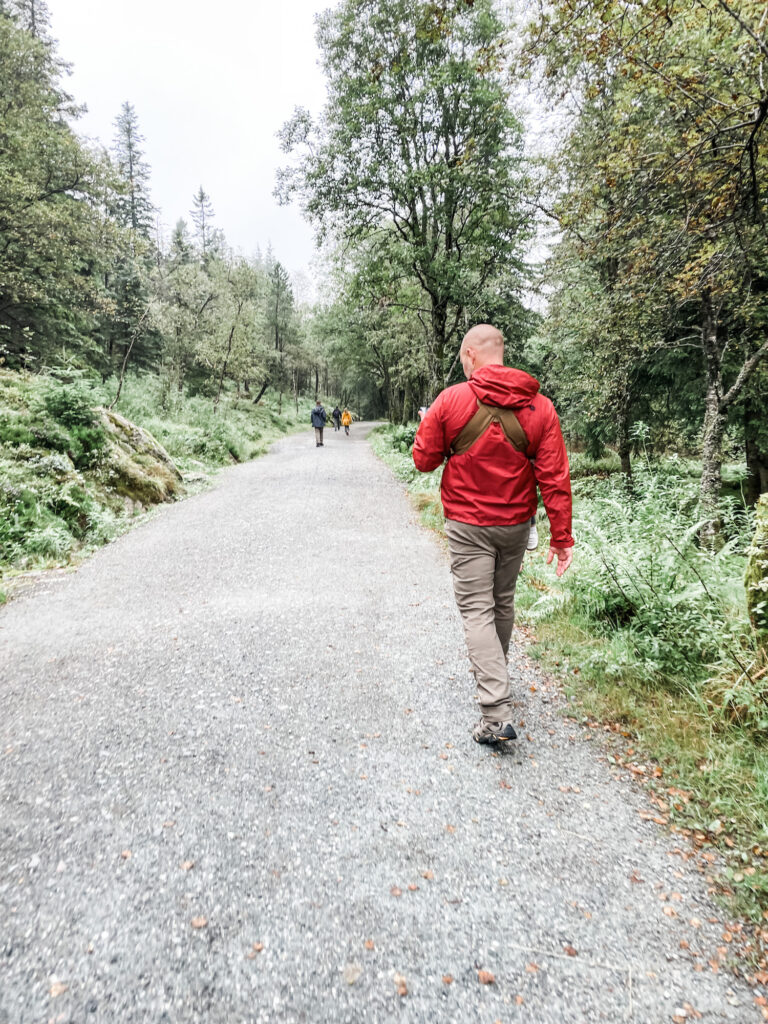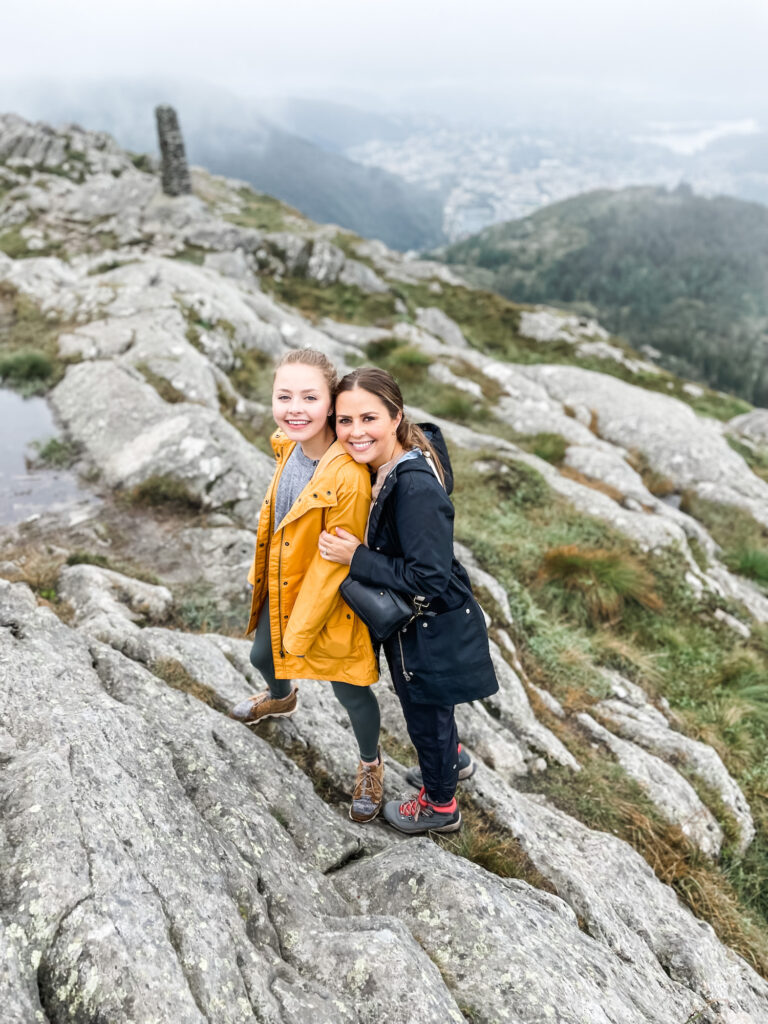 After the hike, we had sandwiches and pastries in the cafe and everything was delicious… then we headed over to the natural playground and troll forest.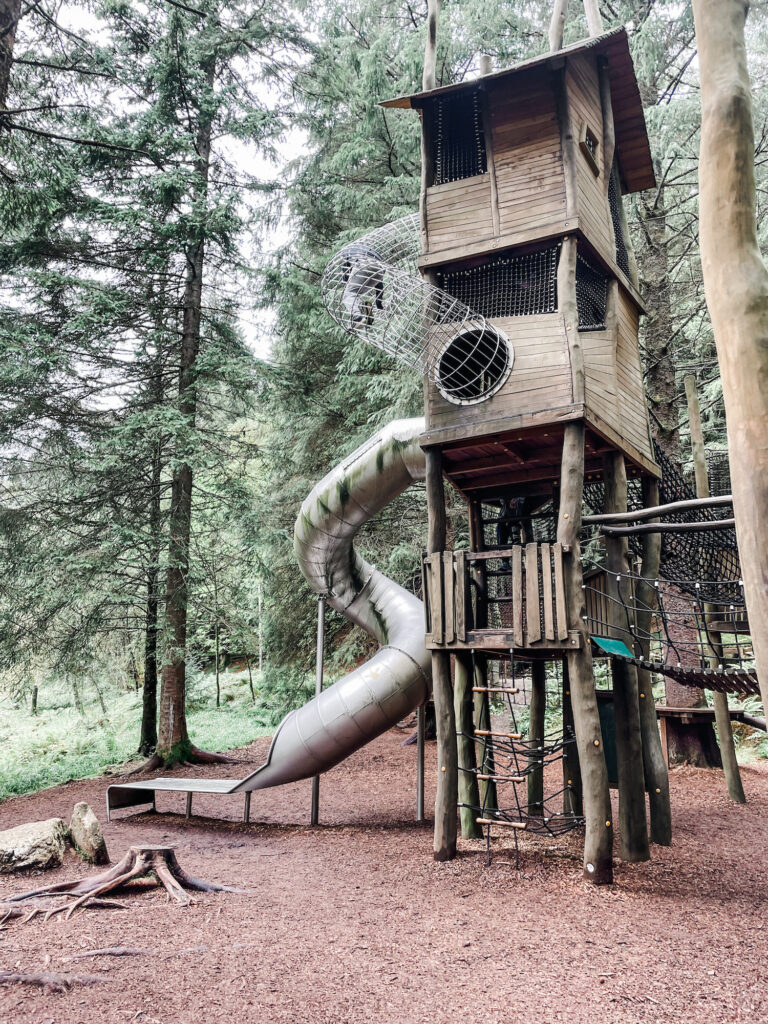 The natural playground was so cool. It had all these cool structures to play on and an awesome biplane (which we all had fun riding). Watch out if it's been raining recently, things can get very muddy, as Hannah and Ava discovered when they got stuck in a bog.
You can either ride the funicular back down the mountain or you can hike right down from the top. The trail pops you out right at the neighborhood of our airbnb, so we decided to hike down the first day. Finn couldn't hang…
Day Three.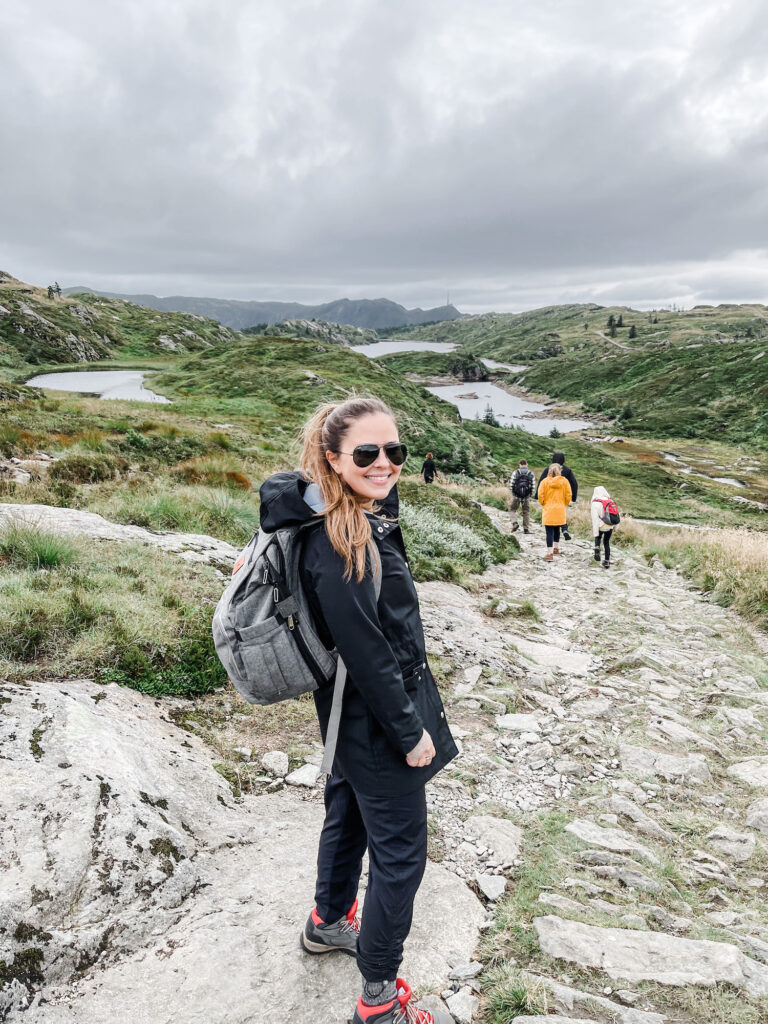 On our third day in Bergen we headed back up the funicular again and hiked mount Rundemanan. This was my favorite of the two hikes. I don't know how to describe it, except that I feel like I had stepped right into Lord of the Rings. It was so beautiful. You can't see Bergen from the top of this hike, just endless green mountains. It was so beautiful and peaceful, there were sheep grazing close to where we stopped for lunch, and hardly any noise. You would never know Bergen was on just over the mountain from here.
We brought Kneippbrød (a brown Norwegian bread,) Brunost (a brown cheese), smoked salmon and this delicious jam up with us and ate lunch on top while admiring the sweeping views. It truly was a magical place and a really special moment for our whole family.
After our hike, we hit the natural playground again and then rode the funicular down the mountain so we could catch our evening Bergen walking tour.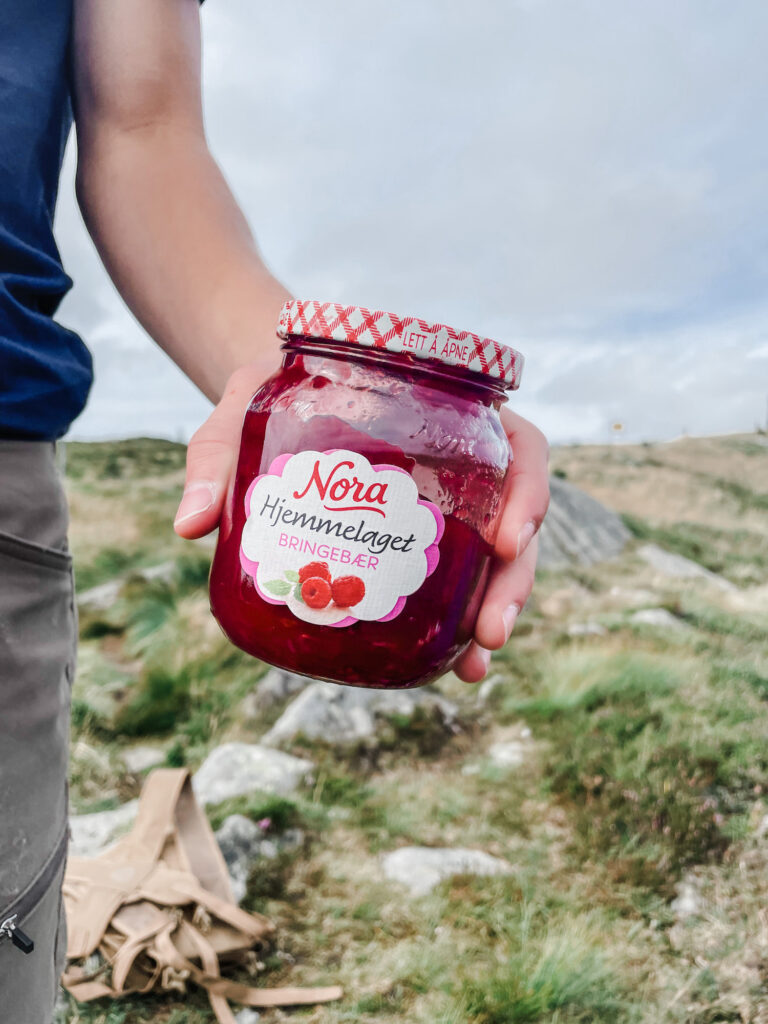 Bergen walking tour.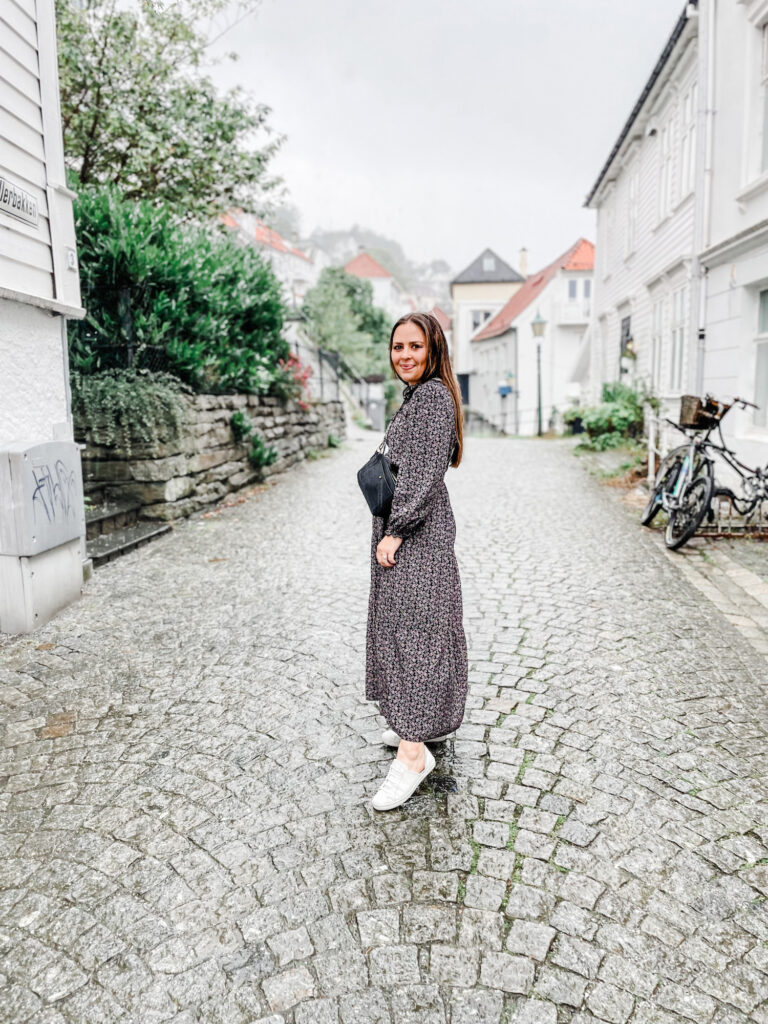 We scheduled a Bergen walking tour for our 3rd evening in the city, and I am so glad we did. The tour was very entertaining and we all learned so much about the history of the city, as well as Norway itself. The tour was given by a local Norwegian grad student who was very knowledgeable and funny and we all had a great time. I would definitely recommend scheduling one while you visit the country.
Find more tours around Bergen right here.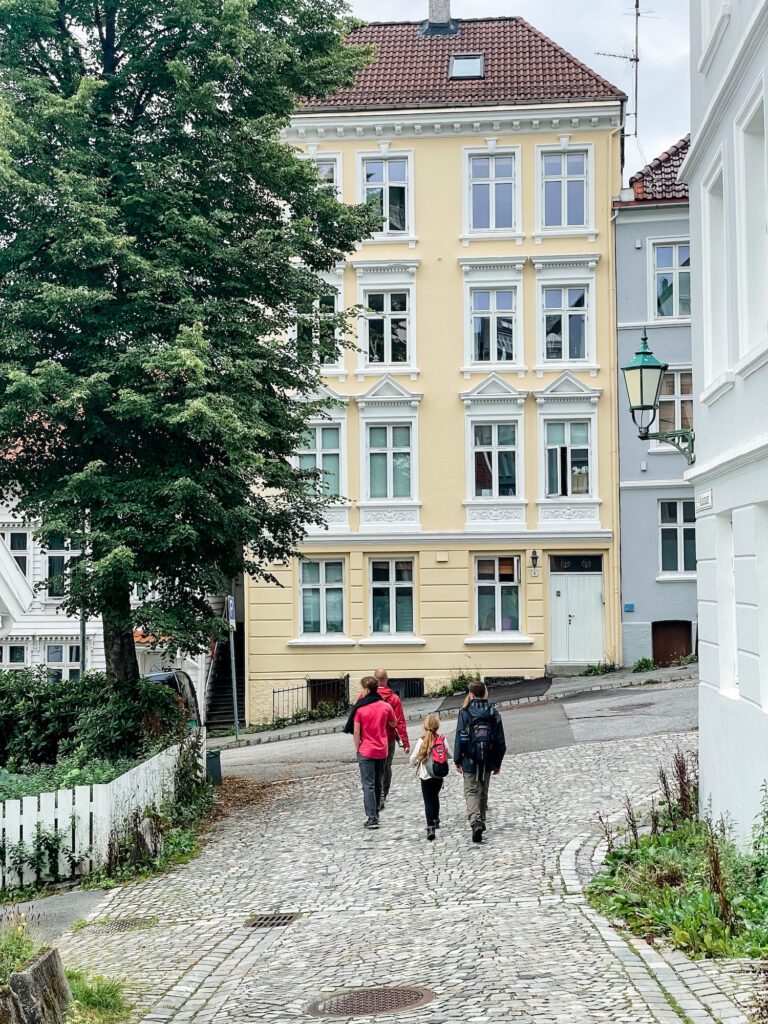 Day four.
We spent our entire last day in Bergen walking and exploring the city. Bergen is one of the safest and most walkable cities I've ever been in and we really enjoyed being able to spend an entire day just getting to know her better.
We also went and visited Hakon's Hall, which honestly was so underwhelming, but you can add admission to Rosenkrantz tower to your tickets for a few dollars more, and that was amazing. Really you could completely skip the Hakon's hall part. The visit to the tower is not stroller friendly, and there are tons of stairs, but it is so incredible and also shares a ton of interesting history. Definitely worth doing.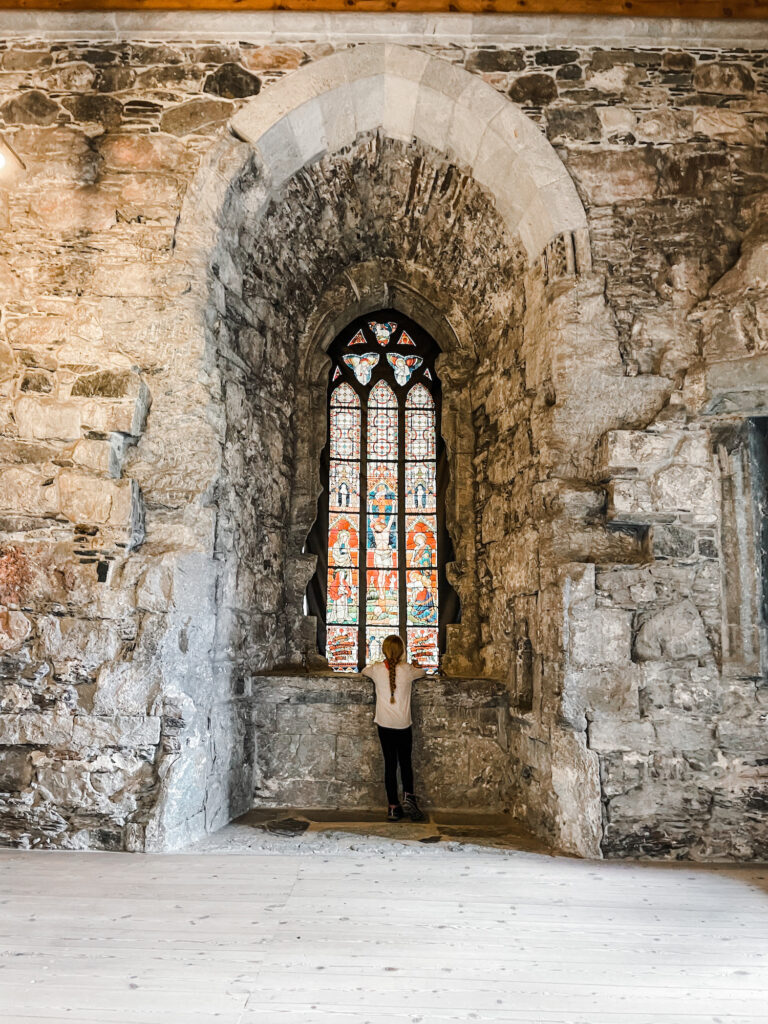 After our visit to the tower, we had lunch right in the heart of Bryggen, at Madam Felle on the dock, the food was decent but the location was GOLD. Perfect for relaxing a people watching for an hour or so.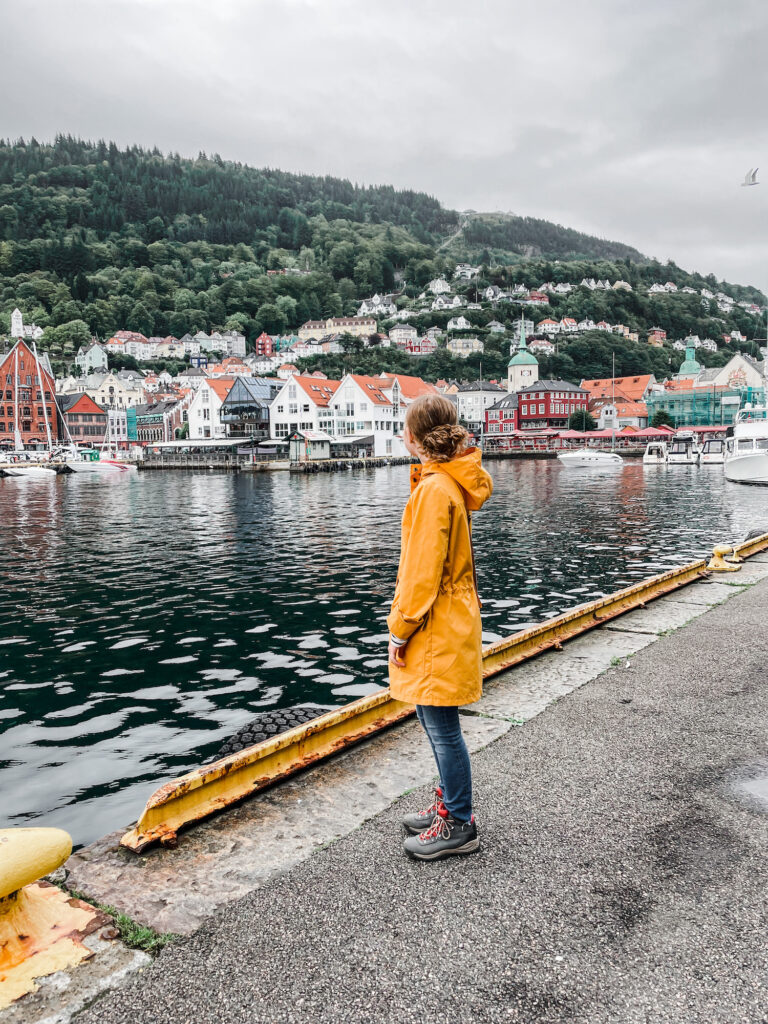 After lunch we walked around the city, exploring shops and different neighborhoods. I love exploring a city this way. In the evening we rented electric scooters and took turns two at a time (since we had Finn and Ava and both were too young to scooter) driving around the city. This was so fun for everyone. Electric scooters are HUGE in Norway. We saw them everywhere we went, and they are everywhere in Bergen. Most people seem to get around via electric scooter. They have stations to rent them all over the city and it only takes a few minutes to check one out. You need a credit card and a driver's license.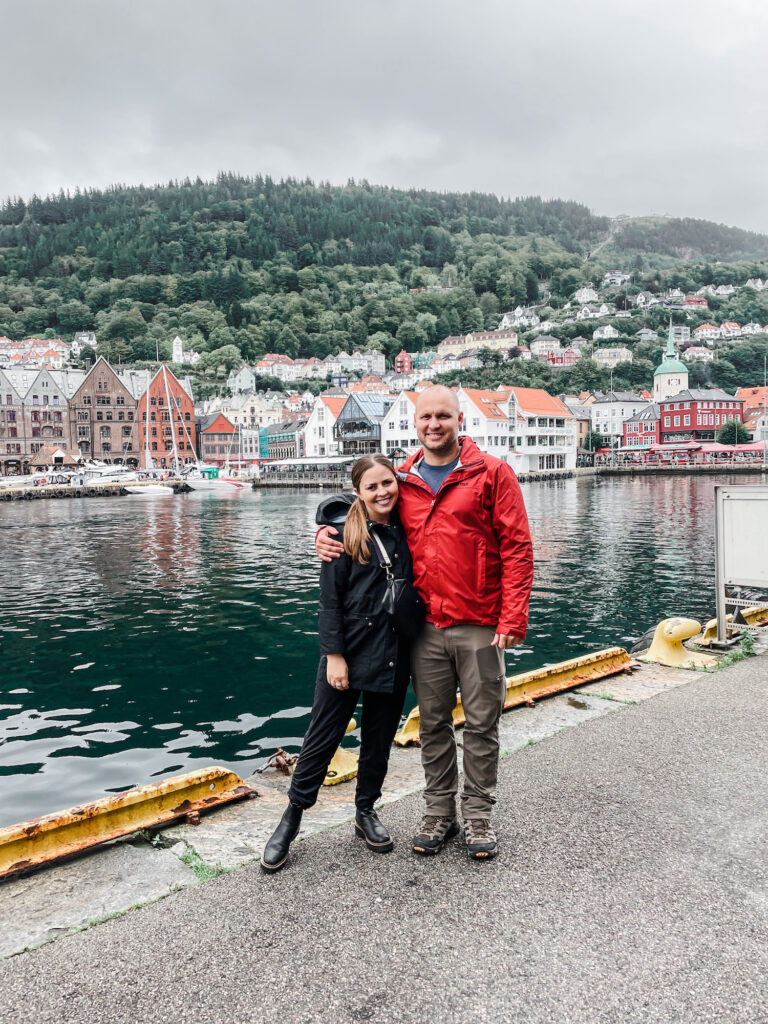 We ended the evening with waffles, ice cream and cocoa on the wharf again, while we watched the most magical Norwegian sunset, and then made our way back to Bergen station to board the night trail back to Olso… but more on that later!
More about our trip to Norway:
Our entire trip itinerary, and cost.
Travel Norway: our days in the Fjords.
What I packed for Norway.