Style Therapy: Here comes the bride, along with her mom's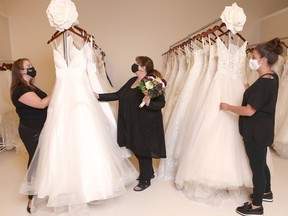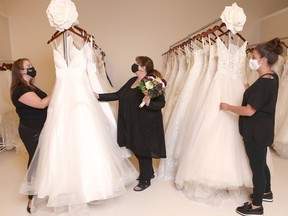 Article content
Is there a father of the bride who worries about how he's dressed for the wedding? Is there a mother of the bride who doesn't?
Article content
The answers are obvious: No and Are You Kidding? The mother of the bride may play somewhat of a secondary role in the marriage of her daughter but most women fret about what to wear for such an auspicious occasion.
Been there, done that, and I'm here to help.
A predicted 2.5 million couples will marry this year in the United States alone, a number fuelled by the pandemic. Canada and other countries are seeing a similar surge. That's a lot of mothers with the same problem – what to wear on their daughter's big day.
It used to be that mother-of-the-bride dresses followed a kind of uniform – a cocktail jacket atop an understated sheath. Matronly? Maybe. Today, almost anything goes, and you shouldn't feel restricted to traditional attire. Yet, having the freedom to express your style for this memorable event can be incredibly overwhelming. You can never go wrong if these three words come to mind: elegant, understated and appropriate.
Be sure your ensemble fits into the theme of the wedding and complements the colour palette, season, degree of formality and venue. Let the bride be your guide. Ask your daughter for some guidelines around the tone of the event and follow suit.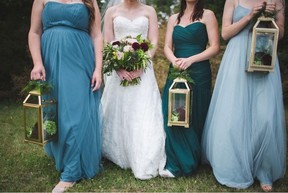 FAQs, dress tips and etiquette
Can the mother of the bride wear the same colour as the bridesmaids? No, but tradition dictates she should wear attire in a complementary colour family to what the bridal party will be wearing. If the bridesmaids are wearing sky blue, you might want to choose something navy. You get the idea.
Article content
No matter what colour she chooses, you'll never go wrong with anything in a neutral tone such as flesh, taupe or silver, which pairs perfectly with anything. Don't clash with the colour theme. The only one who should stand out is the bride. (You stay away from any predominately white outfits, cream or ivory. That colour is reserved for the bride to wear at the wedding.)
Can the mother of the bride wear a black dress to the wedding? At one time, black was strictly off-limits. Today it's acceptable, although there are a few essential considerations. Black can convey many emotions. Is your dress serious or celebratory? Is it more suitable for a wedding or a funeral? For a wedding, it needs to be pretty. Include some sparkle, shine, and a bit of sheer (where you can show some skin without showing some skin). Does it overpower the colour that the wedding party is wearing? If they are wearing soft pastels, it will seem harsh and overpowering. Keep this in mind and discuss it with your daughter.
If a mom doesn't like to wear dresses, is a pantsuit an option? Modern etiquette allows for a variety of ensembles. You can look and feel chic in a mother-of-the-bride pantsuit or even an elegant jumpsuit. They come in so many styles and fabrics you'll be able to find something that works with the wedding theme. Whether you choose a structured pantsuit or glittery separates involving a chiffon jacket and flowing pants, it can be a striking choice. Just be sure to take your daughter's feelings into account.
Article content
When should moms start shopping and what is the best type of store in which to buy an outfit?
Start looking for a dress as soon as the bride has chosen the bridesmaid's dresses. (If you can get a swatch of fabric and take it along when you go shopping, it will make finding a harmonizing hue for your ensemble easier.) Allow at least three months to ensure ample time for shipping, returns, fittings and alterations.
If you are not one of the lucky women who magically find a perfect dress the first time shopping, expect to encounter some challenges. Stores often don't carry enough stock or samples in anything over a size 12. It's important to try on a garment designed in your size with your body and proportions in mind.
Venture into the virtual stores as well because there is a wider variety of sizes and styles available. However, pay particular attention to the online reviews and make sure you are happy with the return policy. Sometimes dresses look lovelier in photographs than they are. Always remember that there's a dress out there that will make you feel beautiful and confident no matter your body type and budget.
You deserve to look stunning mom. It's your special day, too.
Helene Oseen is a long-time fashion writer and sought-after stylist. She helps women find confidence and style as they make friends with themselves and fashion. What's your closet identity? Take the quiz and find out at heleneoseen.com