How Audio Description Fails to Address Fashion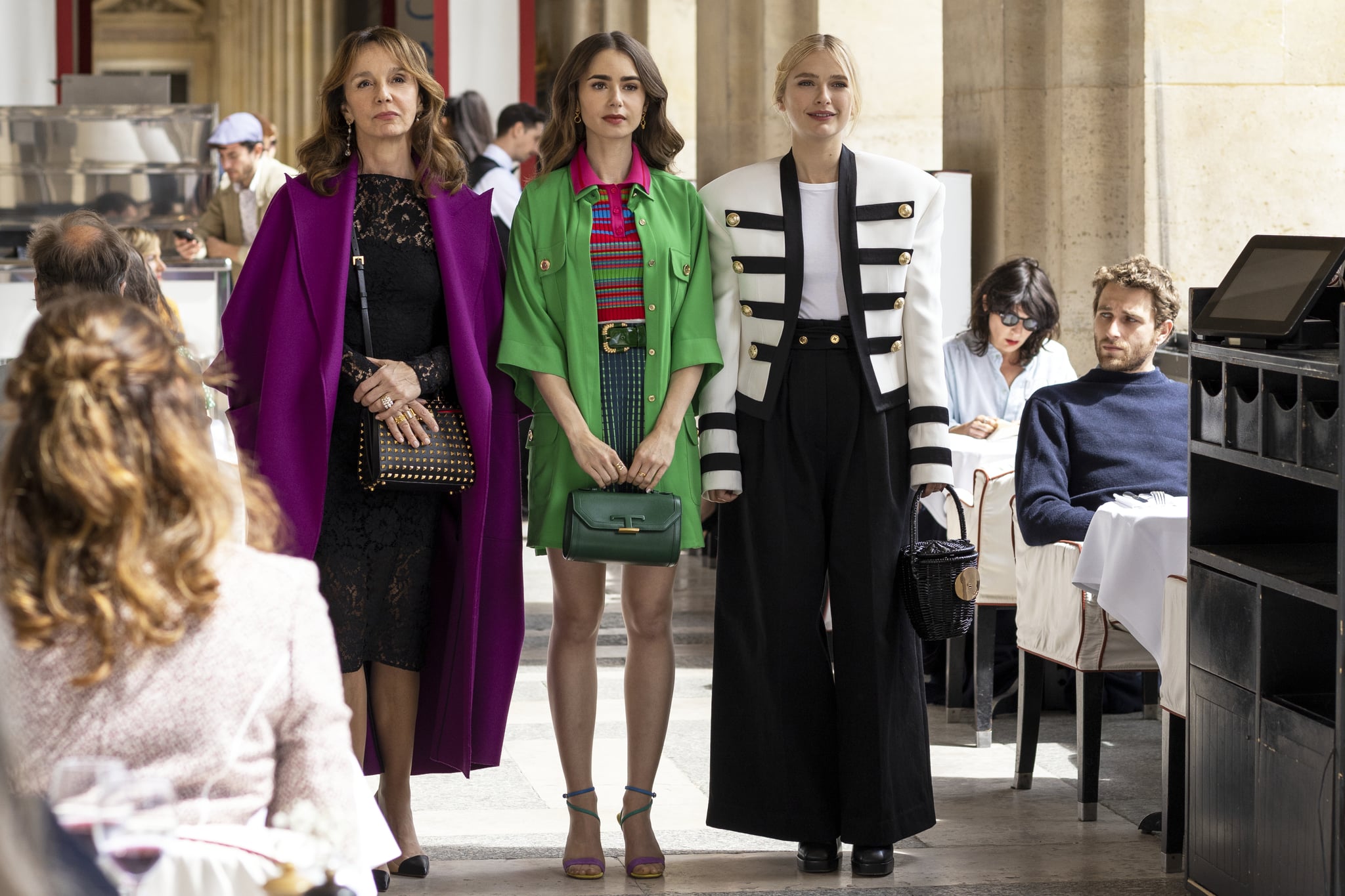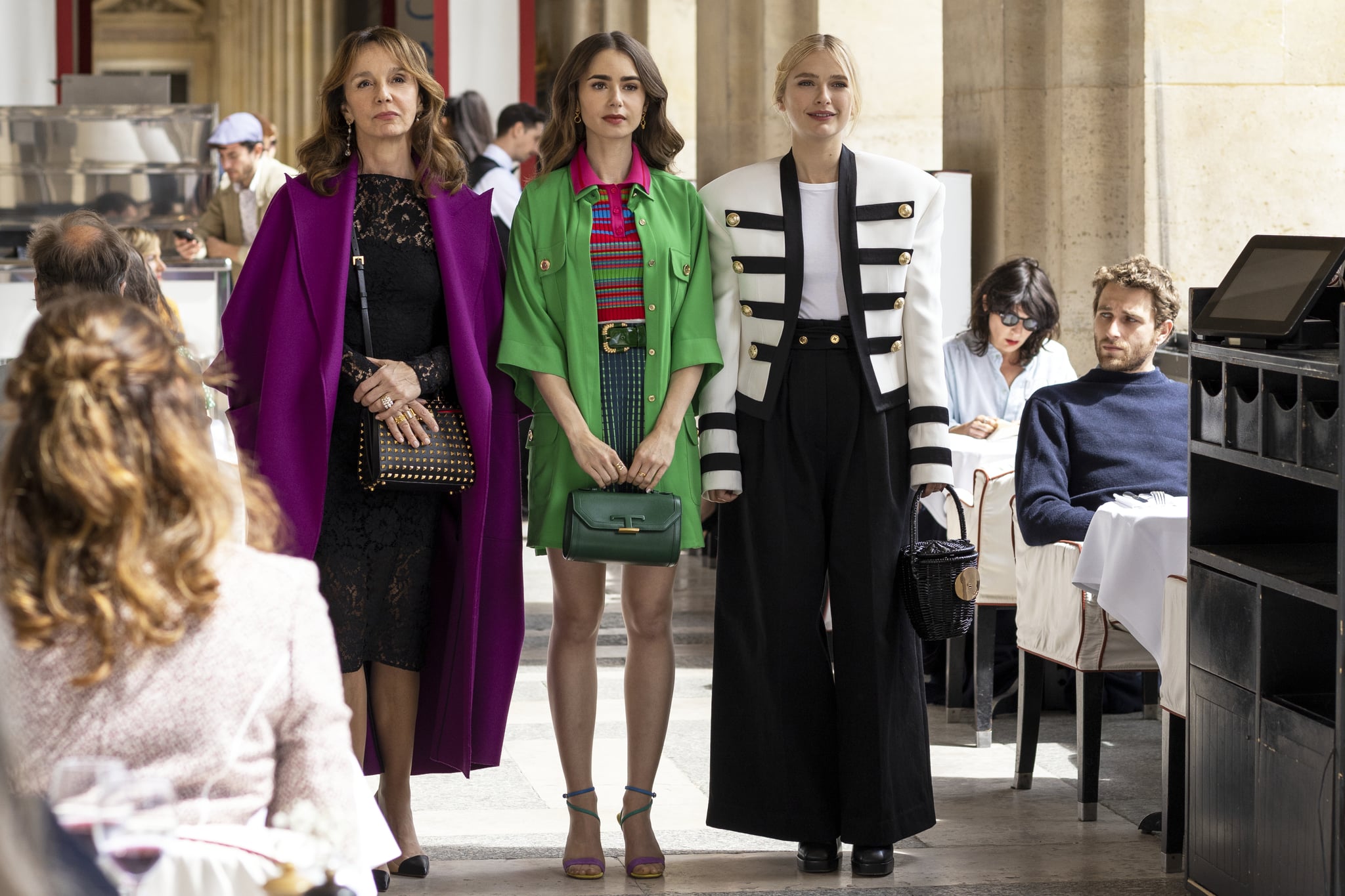 Image Source: Netflix
"Emily scurries across the street wearing a short green coat." That's the vague audio description given to blind and low-vision viewers for one of Lily Collins's first outfits in the season two opener of the hit Netflix series "Emily in Paris." Unsurprisingly, what Emily is actually wearing is much more exciting. After an awkward exchange with her neighbor and love interest, Gabriel, Emily hurries off to work in a colorful, striped Versace polo and a Mugler blue-green miniskirt. It's paired with a bold green belt and strappy heels, then layered with a green Elie Saab jacket.
As you probably noticed, those are two very different descriptions. The first is what's typically provided to those who rely on audio description — if a character's clothes are described at all. Fashion is almost always left out of audio description, because characters' outfits are rarely viewed as important enough to describe. Brittany Culp, a blind model and bodybuilder, wishes this wasn't a conversation we needed to have. "If you're going to audio describe something, then describe it. Paint the picture," Culp says. "Emily is literally in Paris! Paris is one of the major fashion capitals of the world, next to New York. So of course fashion is going to be an integral part of describing the story."
Audio description is an accessibility feature designed for the blind and visually impaired. It breaks down the action and nonverbal communication within a scene so that blind and low-vision viewers can keep up with the storyline. Audio description has proven especially helpful in movies and television shows where a lot is happening outside of the dialogue. Fashion descriptions, however, need an upgrade.
Some might argue that fashion isn't essential to a storyline — that a character's experiences, thoughts, and dialogue are more important than their clothes. But if that were true, there wouldn't be categories for costume design at every major award show, let alone a separate ceremony held each year to honor the industry's best costume designs.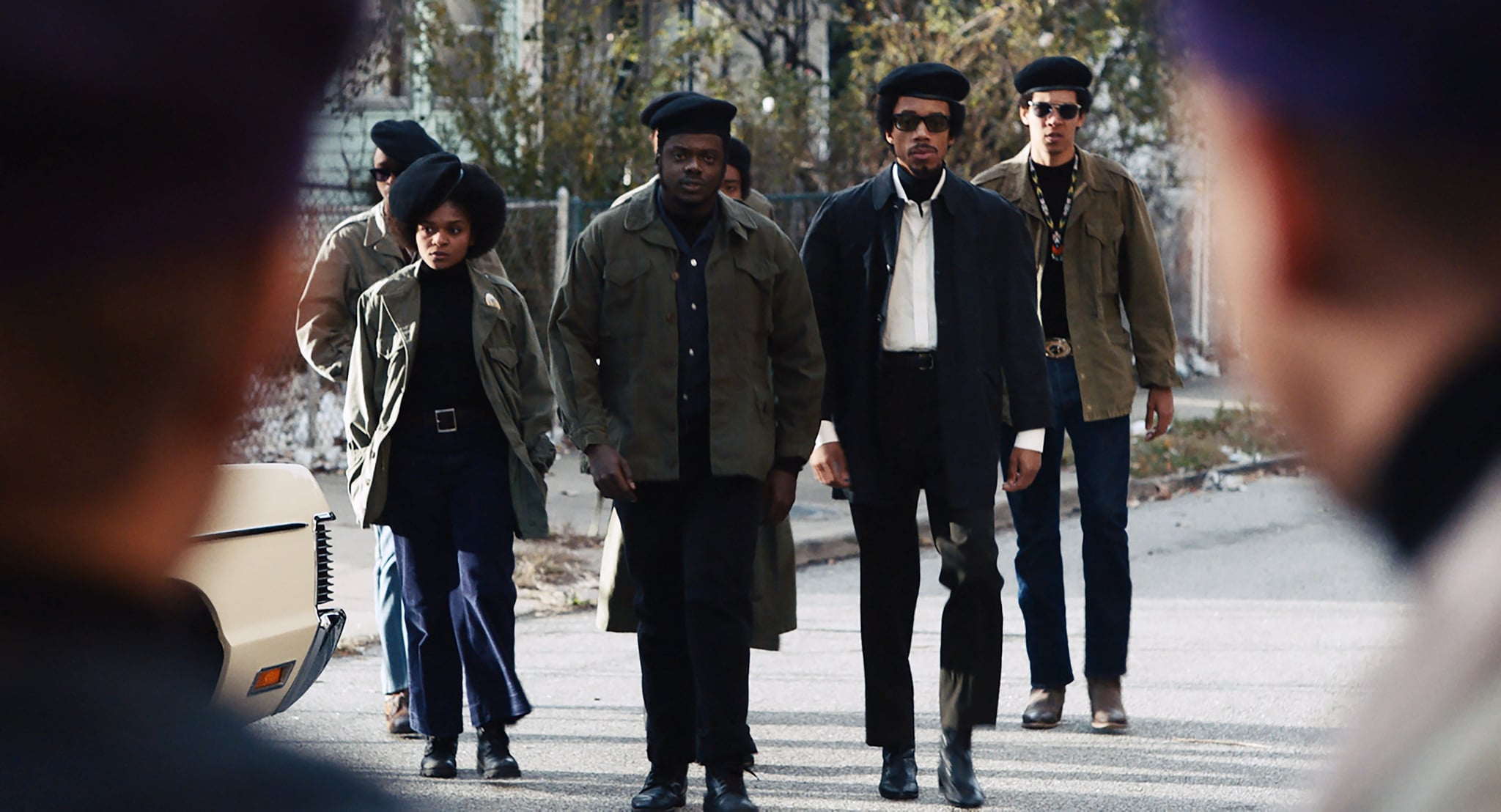 Image Source: Everett Collection
"What a character is wearing really informs a lot about who they are," Charlese Antoinette Jones, a costume designer whose work in "Judas and the Black Messiah" was nominated for a Costume Designers Guild Award in 2021, says. "Fashion is a visual language that helps move a story along. Before a character even opens their mouth, you see what they're wearing, their hair, and their makeup. Those things help viewers to understand what a character might do for work or what subculture or counterculture they might be a part of." The costumes in "Judas and the Black Messiah" are essential toward re-creating the 1960s and even serve as identifiers for organizations like the Black Panthers, the Crowns, and the Young Patriots, whose members wear different-colored berets.
But even when they aren't as integral to world-building, costumes are still an essential part of the viewing experience. The cult classic "Buffy the Vampire Slayer" isn't about fashion, but 25 years after the series first aired, there are still countless pieces on the iconic styles worn by Buffy and the Scooby Gang. Instagram pages are dedicated to Sarah Michelle Gellar's wardrobe, and fans try to re-create costume designer Cynthia Bergstrom's looks to this day.
"What a character is wearing really informs a lot about who they are," Jones says.
In the season three episode "Homecoming," Buffy and her classmate Cordelia compete for the title of Sunnydale's homecoming queen — only to be kidnapped right before the dance. One of the episode's highlights is Buffy and Cordelia's homecoming dresses — which is why it's such a missed opportunity that streaming audio descriptions fail to describe what the two are wearing.
"I designed both of those dresses. Buffy's dress was taken from a popular designer, Isaac Mizrahi, and Cordelia's dress was really inspired by the movies of the '40s and actors like Rita Hayworth," Bergstrom tells POPSUGAR. "And the difference between the two dresses was really emblematic of their personalities." Buffy's sweet red number is "more of a tea dress," Bergstrom says, with spaghetti straps, a straight neckline, princess seams, and a fuller skirt. By comparison, her rival Cordelia is dressed in what Bergstrom describes as a "very sexy" floor-length green satin gown, with a halter neckline, a slim silhouette, and a thigh-high slit.
Of course, audio descriptions don't always have enough time to do such thorough outfit narration — but it's still important for those who write and voice audio descriptions to learn some basics. "There should be a knowledge of fashion, even if it's just having an understanding of the fashion vocabulary. This way, you'll know how to say something quickly in between the scenes," Stephanie Thomas, a disability fashion stylist who has also worked as a voice talent for audio description, says. "As a stylist, I'm going to talk about the outfits totally different from someone who is not. But as an audio describer, I'm going to need to be able to talk about it in a way that someone who is listening can understand. And they may not know anything about fashion, so I at least need to be able to describe the color, fit, length, and texture."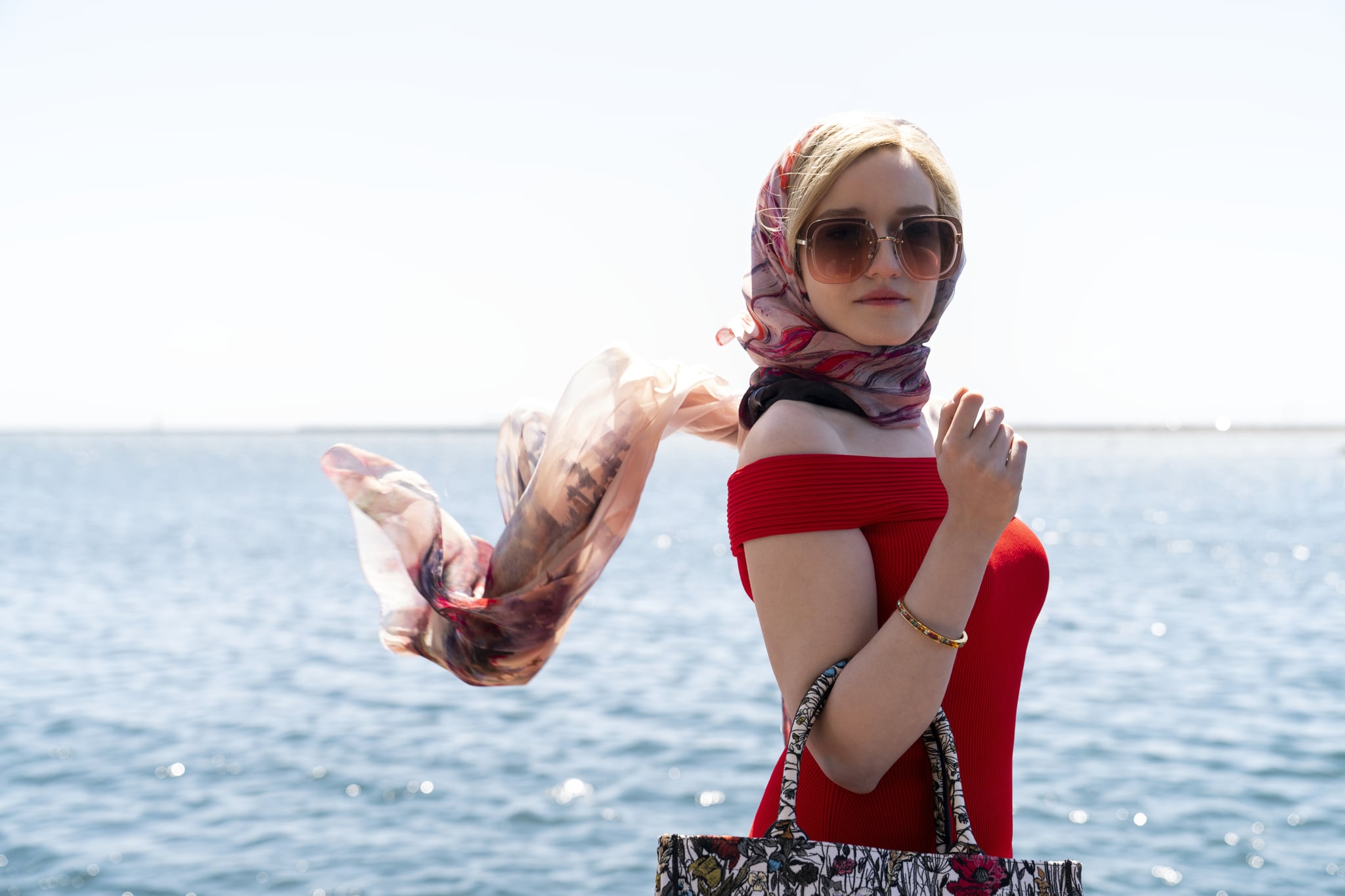 Image Source: Netflix
There are some good examples of audio fashion descriptions: shows like Netflix's "Selling Sunset," "Selling Tampa," and "Inventing Anna" do a much better job of describing outfits. Culp recently watched "The Matrix" and found the audio descriptions of the costumes to be detailed and accurate. "I looked up articles on the wardrobe stylist and the different looks from 'The Matrix,' and everything that the audio description described them wearing in the movie was spot on to the articles," she says. "I already had a really good picture of what the outfits were before I went and googled them. So that right there shows you the power of a thorough audio describer."
Good fashion descriptions in movies and television are possible, but only if the companies responsible for audio description understand that this is something blind and low-vision audiences care about. Fashion is important to a lot of viewers, not least because it provides inspiration for their own wardrobes. Outfits on hit shows like HBO's "Euphoria" frequently sell out online — and like everyone else, blind and low-vision viewers want to know what's in fashion and buy it for themselves.
"I think it's important for blind and visually impaired people to have access to knowing what the current trends are," Culp says. "Because that's what we carry into our everyday lives. Especially if you work in an office or setting that requires you to look a certain way . . . it all influences a person's ability to live their best lives and present themselves in the best way possible."